National Representatives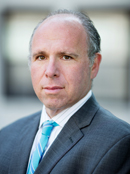 Russell X. Pollock
Russ Pollock is a founding shareholder in the law firm of Bergstresser & Pollock PC, a trial practice dedicated to representing plaintiffs in professional liability and other high exposure civil litigation matters. He has represented clients in medical malpractice, legal malpractice, general liability, products liability and motor vehicle liability actions. He has tried numerous cases to verdict in a variety of areas of law. Following law school, Russ began practicing in New York City in 1989 until moving his practice to Boston in 1994.
Russ is a graduate of the State University of New York at Stony Brook, where he earned a Bachelor of Science degree in Applied Mathematics. He received his law degree from Brooklyn Law School. He has been admitted to practice in Massachusetts, Connecticut, New Hampshire, Rhode Island, New York and New Jersey as well as numerous Federal Courts.
Russ is an Associate Member of the Massachusetts Chapter of the American Board of Trial Advocates, for which he served as Chapter President in 2017. He is also a member of the American Bar Association, the Massachusetts Bar Association and the Massachusetts Academy of Trial Attorneys, for which he has served on the Board of Governors. Russ has also held office with the Town of Sherborn where he was elected to the Sherborn School Committee and appointed to the Sherborn Advisory Committee. Russ is also a volunteer hearing officer for the Massachusetts Board of Bar Overseers.
Christopher A. Duggan
Massachusetts ABOTA Board Officer Ex Officio
Massachusetts ABOTA owes a continuing debt of gratitude to Christopher A. Duggan for his tireless dedication to the chapters. Christopher A. Duggan is the founding partner of Smith Duggan Buell & Ruffo LLP, which has served clients nationwide since 1989. He is one of the most active trial lawyers in Massachusetts and New England, representing corporations and individuals in a variety of matters including business and employment disputes, product liability cases, insurance coverage litigation and professional liability claims. He has developed an active practice in fire litigation, and represents some of the leading manufacturers of home appliances and air movement equipment in the world. He also represents airports, insurers and manufacturers involved in the aviation industry. Mr. Duggan also has an active practice in the trade show industry, representing the leading general contractor in the industry for more than 15 years.
Mr. Duggan is a Diplomate of ABOTA, a rank reserved for those who have tried 100 jury cases to verdict. As president, he conceived and began the James Otis Lecture Series, an annual lecture program in which highly successful women and men give a talk to high school students on Constitution Day. Mr. Duggan continues to serve as Director of the series. This highly acclaimed program is now in its sixth year in Massachusetts and has been adopted in chapters across the United States. Such luminaries as professors Daniel Coquillette, Akhil Reed Amar, Michael Burlingame, John Ferling, Pauline Maier and Gordon Wood have all participated along with noted jurists Justice Robert Cordy, Chief Justice (Ret.) Margaret Marshall and now Chief Justice Roderick Ireland.
Mr. Duggan was first elected to the National Board of Directors in 2009 after serving as the Chapter president in 2007 and 2008. In 2013 he was elected National Secretary. In addition to being a member of the National Executive Committee, he sits on five committees of the National Board of Directors, including the Presidential Task Force, the Constitution and Rules Committee, the Youth Education Committee and Long Range Planing Committee and the Chapter Relations and Revitalization Committee, which he co-chairs with Doug DeGrave and Michael Maguire of Orange County. During his tenure as Chapter president, membership expanded by almost 200% and he worked to make the Chapter more active in the Massachusetts bar and community by running programs such as the Mass ABOTA Law Day Reception, the "Inside the Box" jury seminar (in conjunction with MCLE), and the Chapter's first Masters in Trial program (in conjunction with Suffolk Law School). He created the William Whiting Judicial Award for Judicial Courage named for Chief Justice William Whiting, who courageously stood for the rights of those charged with treason in Shays's Rebellion although it cost him his position and was jailed for a time.
Mr. Duggan is a past President of the Massachusetts Defense Lawyers Association and is member of the International Association of Defense Counsel where he sits on the Commercial Litigation, Product Liability and Aviation and Space Law committees. He regularly lectures in programs run by the Massachusetts Bar Association, Massachusetts Continuing Legal Education and other organizations on topics including trial techniques and strategy and substantive law. He graduated summa cum laude from Boston College in 1981 and from the University of Virginia School of Law in 1984. He has been inducted into several honor societies, including Phi Beta Kappa, Alpha Sigma Nu and Phi Alpha Theta. Mr. Duggan can reached by visiting www.smithduggan.com or at chris.duggan@smithduggan.com.